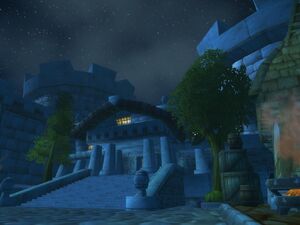 The Dwarven Hall is situated deep in the Dwarven District. It was built during the Stormwind reconstruction, but for some reasons unknown to everyone it had no use till the present day, when Mountaineers Third (Mountaineer) made it their HQ. The once empty hall was full of bulky unpacked boxes and sacks, ammo crates, bundles of dinamyte and other supplies. However, a couple of months later, the Mountaineers moved into another location, making the Hall empty and dusty again.
Over the years it has served several other functions, hosting various trials of great importance as well as a gathering of the R.A.S.
Ad blocker interference detected!
Wikia is a free-to-use site that makes money from advertising. We have a modified experience for viewers using ad blockers

Wikia is not accessible if you've made further modifications. Remove the custom ad blocker rule(s) and the page will load as expected.