A couple of miles east from Southshore stands Dun Garok, a dwarven Hold built shortly before the Third War as an act of assistance to the ravaged land from the Dwarves.
Mountaineers
' Third Brigade is stationed here at the moment, led by Colonel Angst Ironboot.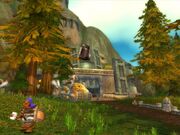 Captain Ironhill is in charge of the defense when higher ranks are out on a mission.
As all the modern dwarven holds, Dun Garok has all the facilities one may ever need. Two bars are situated in the wings, filled with foodstuffs. On the lowest level is the meeting lodge, with a cosy campfire. Most of the meetings and discussions happen here. The central hall has been turned into a steam tonk depot and a gyrocoptery on the higher level, where the Pole Star is usualy docked. A laboratory is situated on the top floor, where Mountaineers skilled in engineering can always be seen (as well as the remnants of an unlucky one smashed agaisnt the ceiling). A spartan dormitory occupies the top floor as well.
The ground outside Dun Garok is still a bit scorched from the time when a Blood Elven army attacked the Hold. Not far from the fortress, on a cliff stands the monument to Mountaineers killed during the operations held for the safety of the Alliance.
Grimbal Ironbeard was raised here as an orphan and intends to return once he is finished working for Ironforge. He currently resides in Southshore
Ad blocker interference detected!
Wikia is a free-to-use site that makes money from advertising. We have a modified experience for viewers using ad blockers

Wikia is not accessible if you've made further modifications. Remove the custom ad blocker rule(s) and the page will load as expected.