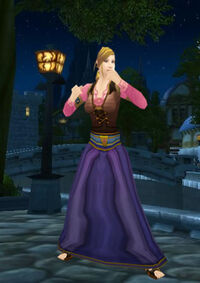 Donni Anthania Cook
The citizens of Goldshire call her "The Crazy Cat Lady" but she thinks they are crazier than herself.
Husband: James (deceased)
Children: Rumoured to be several children including Louise and Aydith.
Personal Notes
Edit
Also known as The Crazy Cat Lady.
She lives in a small cottage in Elwynn, near to Northshire. She is widowed, and her insanity took a downward spiral after her husband's death, when she began to keep and breed cats as meat.
Kitty Nuggets
Cat Burgers
Bombay Curry
Tabby Sandwiches
Cattail Kebabs
Ad blocker interference detected!
Wikia is a free-to-use site that makes money from advertising. We have a modified experience for viewers using ad blockers

Wikia is not accessible if you've made further modifications. Remove the custom ad blocker rule(s) and the page will load as expected.